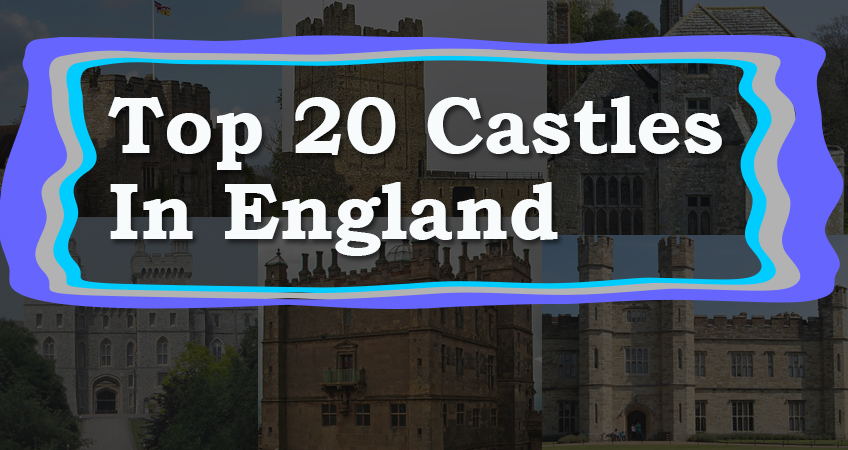 Quite a number of the best castles of the world can be found in England. The country boasts of several incredible castles too fantastic to be overlooked. Since there are many castles in England, it can be quite challenging to pinpoint which ones to visit. This is why we have compiled a list of our top English castles, dotted all over the country. It is always so impressive to come across castles that have withstood the test of time. Some have lasted several centuries, and millennia even.
Here Is Our List Of The Top England Castles To Visit In 2020:
1. Tintagel Castle, Cornwall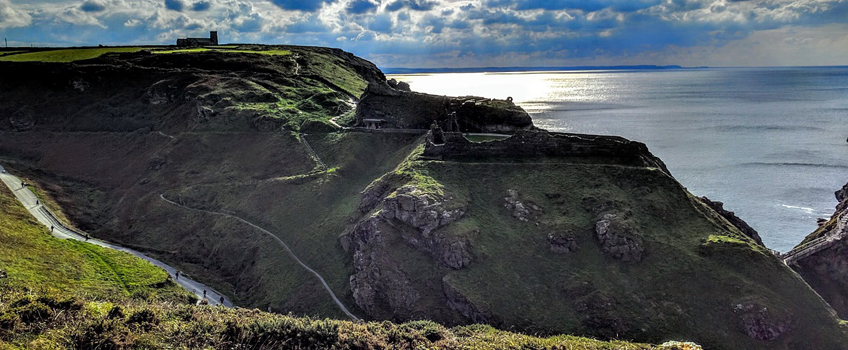 From the 5th century, this castle was an important stronghold and royal residence. It was built partly on a jagged headland projecting into the Cornish Sea and partly on the mainland. Its close association with King Arthur makes it one of the most famous British castles. It is also one of the incredible historic sites in England.
2. Dover Castle, Kent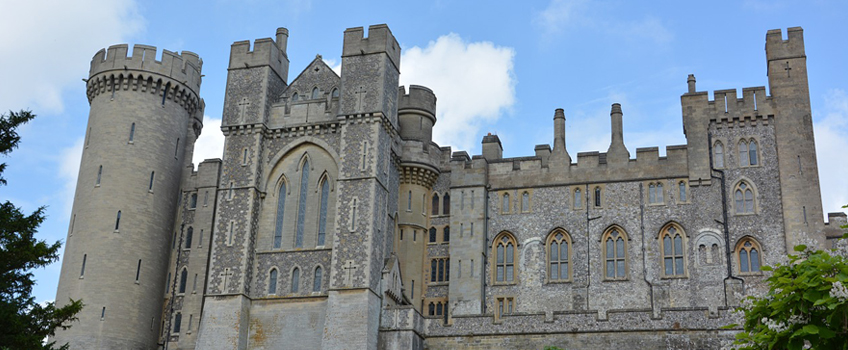 It has been described as the "Key of England" because of its defensive significance throughout England's history. Dover Castle is the largest castle in England and was built by King Henry II. The castle boasts of two sacred places within its grounds – the Royal Chapel and St. Mary in Castro.
3. Carisbrooke Castle, Isle of Wight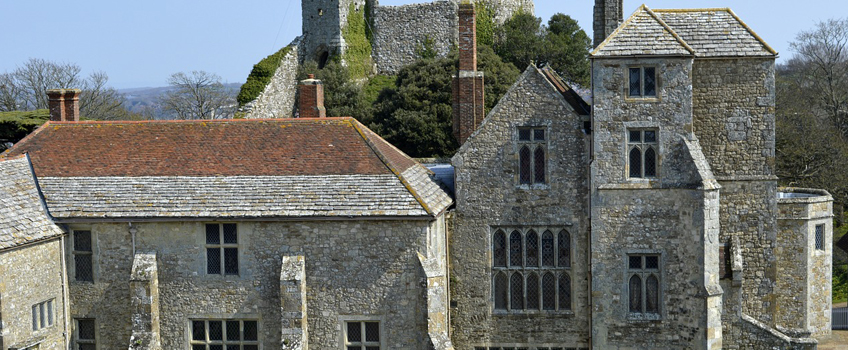 This historic motte-and-bailey castle is located in the village of Carisbrooke near Newport. It has served as an artillery fortress, a King's prison, and a royal summer residence. The castle boasts of several lovely donkeys, a museum and an Edwardian garden.
4. Bolsover Castle, Derbyshire
This castle was built in the 17th century by Sir Charles Cavendish. It offers a spectacular view over Derbyshire and is designed to entertain and impress its visitors. There are so many things to see, such as the Little Castle, Terrace Range, Fountain garden, Wall Walk, and Cavalier Horsemanship.
5. Leeds Castle, Kent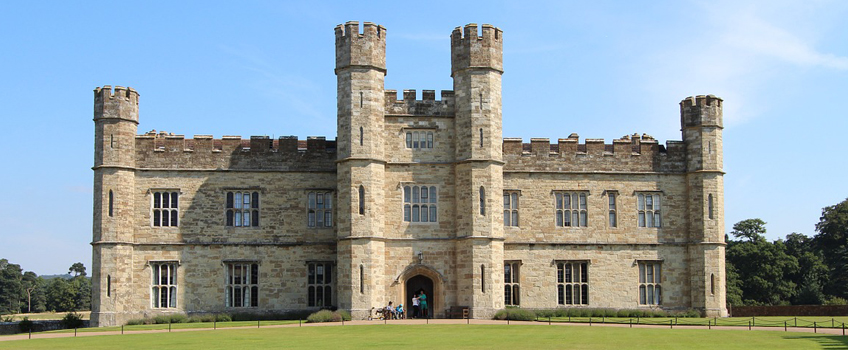 This castle was constructed on islands in a lake formed by the River Lens east of the village of Leeds. The castle and its grounds are a primary leisure spot with a maze, golf course, and a museum of dog collars. It also boasts of two castle-themed children's adventure play areas targeted at kids under 7 and 14.
6. Windsor Castle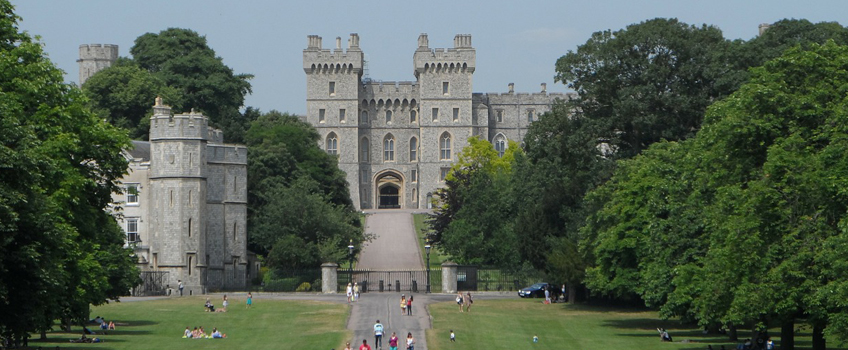 Situated at Windsor in the English county of Berkshire, this castle is a royal residence and is the longest-occupied palace in Europe. The original castle was built in the 11th century by William the Conqueror. Since the time of Henry I, it has been used by the reigning monarch.
The castle is a famous tourist attraction, but it offers only limited access to the public. It is the preferred weekend home of Queen Elizabeth II.
7. Hever Castle, Kent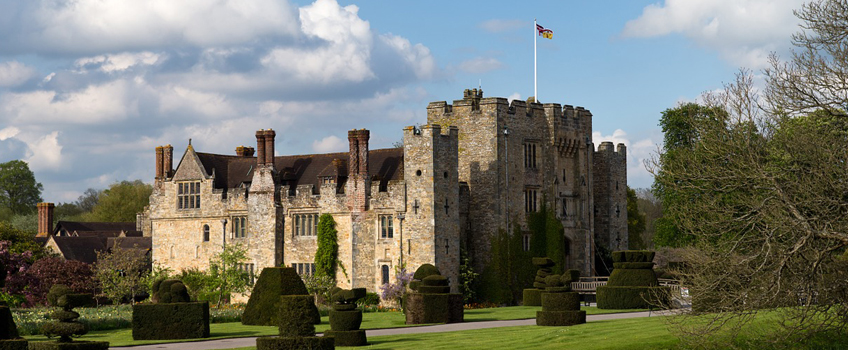 Built over 700 years ago, this castle was home to some queens of England, like Anne Boleyn and Anne of Cleves. However, it is now open to the public as a tourist attraction. It offers sights of instruments of torture, antique furniture, and an extensive collection of Tudor paintings. The castle grounds include a water maze, yew maze, tower maze, topiary, herb garden, and rose gardens.
8. Bolton Castle, Yorkshire
This quadrangular castle was built in the 14th century and is located in Wensleydale, Yorkshire. Although the castle was severely damaged during the English Civil War, much of it survived and has been restored. It boasts of a garden, including a maze, wildflower meadow, rose garden, vineyard, and herb garden on the site.
9. Richmond Castle, Yorkshire
It was initially built to subdue the rebellious northern part of England. It remains one of the most magnificent Norman fortresses in England. The castle has terrific views of the Yorkshire Dales and a conscientious objectors exhibition.
10. Skipton Castle, Yorkshire
It is a medieval English castle built by Robert de Romille in 1090. Initially, it was a motte and bailey castle but was later rebuilt in stone. During the civil war, the castle withstood a three-year siege which destroyed a large part of it. However, it was eventually rebuilt by Lady Anne Clifford.
Even though it is over 900 years old, Skipton Castle remains one of the best-preserved British castles.
11. Corfe Castle, Dorset
This castle is a fortification that stands above a village with the same name on the Isle of Purbeck peninsula. William the Conqueror built it in the 11th century. In the 12th century, the castle was on the frontline of a bloody civil war. During these perilous times, much of the castle was destroyed. However, it is still a top tourist attraction. The sight of the sun rising and setting over the castle and the quaint village is a must-see.
12. St. Michael Mount
This castle is situated just off the magnificent Cornwall coast. The castle is a picturesque and one of the coolest castles in England. Enter through its ancient doorways and take in the stunning views of its entrance hall, library, Chevy Chase room and Priory church. Its Map Room also gives you a chance to unravel the whereabouts of the mythical Cornish giants in a 16th-century picture map.
13. Norwich Castle
This castle was built almost a thousand years ago by the Normans as a royal palace. It was constructed by William the Conqueror who wished to have a fortified palace in Norwich. However, it has since been converted to an art gallery and museum. It boasts of some of the most magnificent collections of archaeology, fine arts, and natural, historical specimen.
14. Ludlow Castle, Shropshire
It is possibly one of the first stone castles in England. This castle was quite essential in medieval times because of its strategic location on the border between Wales and England. The castle was also home to members of the royal family, like Princes Arthur and Edward.
Although most of the castle lies in ruins today, it is still open to visitors.
15. Barnard Castle, County Durham
This castle is set on a high rock and takes its name from its founder Bernard de Balloil. The castle is situated on the fringe of a lovely working market town that offers many tourist attractions. It offers breath-taking views over the River Tees. Also, you would not want to miss its sensory garden of scented plants and tactile objects.
16. Warwick Castle, Warwickshire
It is a medieval castle sitting over a cliff overlooking a bend in the River Avon. Situated in Warwick, the county town of Warwickshire, it is an England castle with a remarkable history. It was built in 1068 by William the Conqueror and was used as a wooden fort. During the reign of King Henry II, the castle was renovated and rebuilt with stone. It was later converted into a country house in the early 17th century.
There are many tourist attractions in this castle, including the Warwick trebuchet, which is the largest in the world. There are also some seasonal exhibits, such as archery displays, a bird show, and some musical events.
17. Lincoln Castle, Lincolnshire
This castle was built almost 1000 years ago by William the Conqueror on the site of a pre-existing Roman stronghold. It was constructed as a part of his strategy to control the rebellious northern part of his kingdom.
An exciting fact about this castle is that the Magna Carta 1215 was read out in the sheriff's court in this castle. The Lincoln Magna Carta has since been retained there and is one of the four surviving original copies of the charter.
Lincoln Castle is one of the better-preserved British castles. From its walls, there is a breath-taking view of the cathedral, castle complex, and surrounding countryside.
18. Alnwick Castle, Northumberland
It is a castle and country house which serves as the seat of the 12th Duke of Northumberland. After Windsor Castle, Alnwick is the second largest inhabited British castle. It was built following the Norman Conquest and has since been remodelled and renovated several times. Since the Second World War, several parts of the castle have been used by various educational establishments.
This castle has served as a filming location for several films, such as Harry Potter and the Philosopher's Stone.
19. Bamburgh Castle, Northumberland
Bamburgh Castle is a stunning castle located on the northeast coast of England, in the village of Bamburgh, Northumberland. The history of this castle dates as far back as 420AD, making it one of the oldest castles in England.
There are so many things to be seen, such as the grounds, staterooms, and the incredible beach it overlooks. The entire landscape is stunning and is easily one of the most fantastic British castles to explore in Northern England.
20. Scarborough Castle, Yorkshire
This beautiful castle is situated on a massive promontory of rock above the North Sea. The castle offers a stunning view of both the north and south bays of Scarborough. It also has unique exhibits, like tools and pottery from prehistoric times. One of such artefacts is an incredible replica of a Bronze Age sword found on site. The castle's grounds are also perfect for a family picnic.
Finally, regardless of your location, we are certain you'll find a castle close to you. We know you'll have a splendid time exploring the ancient castles of England.