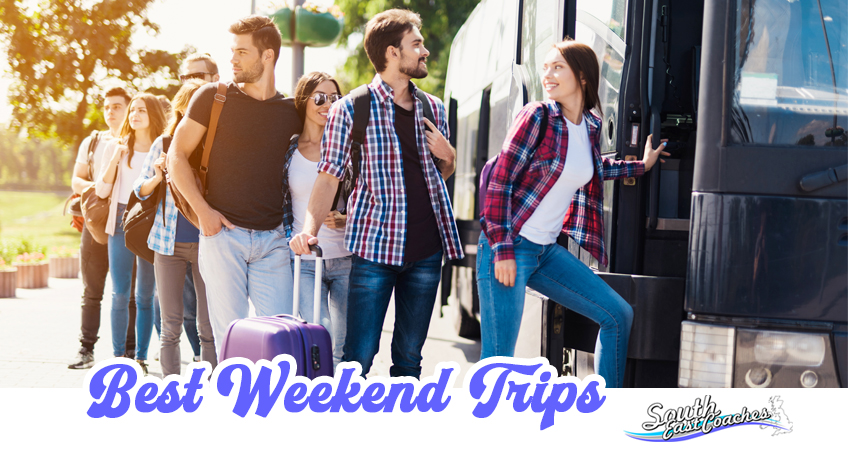 Have you been looking up weekend trips in England, only to become overwhelmed by the sheer amount of choice that is available? Maybe you just want to book the best weekend trips UK without having to worry about going over your budget. Either way, here you can find out everything you need to know about the best places to visit this weekend while also being able to find out the benefits of each one.
Somerset
If you love limestone caves, wetlands and traditional British landscaping then Somerset has exactly what you're looking for. When people do a Google search for "short trips UK" they often come across this destination, purely because it's one of the best places to go for a weekend away in England. If you want to book a hotel then you'll be glad to know that there are plenty of hotels that are able to offer you luxurious accommodation and at a very affordable price. There are even luxuriously designed Georgian rooms and spectacular grounds too. When you stay in this area, you'll be glad to know that there are ancient woodlands and thriving beehives.
A lot of the restaurants in the area also focus on serving very traditional food as well, so if you want to be able to taste the finest food in Britain that actually uses food that's in season then you won't be disappointed. If you want something to do while in the area, then take a trip to Wells Cathedral. It's home to 300 gothic sculptures, scissor arches and one of the oldest clockwork mechanisms in the world.
Norfolk
If you look a list of the best trips (UK) then you'll see that Norfolk is usually at the top of the list, and for a very good reason. It's the ideal destination if you want to go for a stroll along the coastline and there are plenty of pubs which serve local ale. If you want to stay in the area, then check out Hales Hall. It's actually set across five buildings and one of them was built in the year 1478. Every room in the estate has a very unique style, but either way, you can expect a four-poster bed, an open fire and a roll-top bath as standard. With rare birds and wildflowers as well, it's safe to say that you won't find a better place to just put your feet up.
The local pubs are not to be missed and they serve local food that includes traditional British puddings, buttermilk pancakes and if you go to the right place, honeyed figs. It's one of the best weekend getaways UK and this is especially the case if you go to the Cathedral Quarter. This area is full of cobblestoned roads and medieval buildings too.
Yorkshire
Yorkshire was once short on holiday destinations, but there are now so many hotels that you can stay at without breaking the bank. One of them is the Grantley Hall hotel. This is nestled within the parkland, on the outskirts of the Yorkshire Dales. There are 47 rooms and they are known for selling their locally-sourced sloe gin. There's even a Japanese garden too. You can spend the entire weekend here without having to worry about a thing, and if you need to unwind some more, then you can even choose to pay a visit to the spa if you want. If you want somewhere to eat, then you'll be glad to know that Shaun Rankin's Chef's Table really is the standout choice.
It's Michelin-starred and you can expect dishes such as homemade sourdough, venison loin and ice-cream. If you want to venture out, then consider visiting the Studley Royal Garden. This is a UNESCO World Heritage Site and it's got a wonderful monastery that is not to be missed.
New Forest
If you want to choose a destination that is going to provide you with the best experience ever, then New Forest should certainly be one of the top destinations on your list. The great thing about New Forest is that it has some fantastic woodland walks and you also have the chance to go nature spotting too. If you are stuck as to which hotel you should be staying in then you should certainly stay at the Chewton Glen. This is a country paradise and it has some of the best views for the forest too.
The spa is the best way for you to rejuvenate yourself after a long day's walking and you would be surprised at how easy it is for you to just kick back after a long day. Brockenhurst stables also offer horse-riding experiences and this is the easiest way for you to see right into the forest. If you don't want to be out and about because you aren't sure if the weather is going to be good enough then consider going to the Ringwood Brewery. This will give you an interesting tour and some very generous samples.
Bath
Bath is a small-scale city that is home to some of the most beautiful architecture in the UK. If you want somewhere to stay here, then you should certainly consider checking out the Great Pulteney. It's a very sophisticated hotel and it is on one of the most charming streets in the city. The exterior showcases the honey-stoned townhouse look that the city of Bath is famous for too. If you want somewhere to eat, then consider a trip to the Olive Tree. It's a favourite amongst the locals and the whole dining atmosphere is very relaxed. If you want to do one thing while in the city then consider going to the Thermae Bath Spa. This will give you the chance to experience the spring water, mineral-rich spa, just like the Romans did some 2000 years ago.
Oxford
Oxford is best for riverside walks. The Old Parsonage Hotel dates back to the 17th century and in the local area there are so many shops, restaurants and even pubs too. If you are stuck as to where you should be eating, then the Cherwell Boathouse should be your first calling point. The food there is very unique, and it is a fantastic way for you to broaden your horizons while also being able to sample some of the finest food in the area. If you only have time to visit a few sites, then consider taking in the view of the Bodleian Library or even the Sheldonian Theatre. You can then go shopping at the famous Covered Market if you want.
Brighton
If you want a beach break that is somewhat old-school, then Brighton should be on your list. You can stay in the Drakes Hotel too. This actually consists of two Georgian houses and it's on the seafront too. It's in very close proximity to The Lanes, Royal Pavilion and also the Brighton Pier too. The unique art rooms are the highlight of the area and if you book the right room then you may even end up with a free-standing bathtub. Of course, if you are going to the seaside then you'll want to visit a classic fish and chip restaurant. Bardsley's is famous for their traditional recipe which they have been using since the year 1926 and they also serve a huge range of classics. A stroll along the pier is always a good thing to do, but if you don't want to be outside then you can always go on a shopping trip at the Lanes.
Cornwall
You can't possibly go to Cornwall without sampling the Cornish ice-cream. If you want to escape the crowds, then the Idle Rocks over at St. Mawes can give you a very nice and peaceful retreat. It's got a stunning interior and you also have a fantastic view of the ocean too. The working fishing port is always a good place for you to visit if you are a foodie. The restaurants there also focus on using a lot of local produce as well, so it's a good idea for you to pay that location a visit.
Of course, it doesn't matter where you are going in the UK or what you want to do because there really are so many places that you can visit to try and make the most out of your trip. If you want to make your whole vacation as stress-free as possible then Southeast Coaches are able to offer you the transportation you need to get there safe, sound and stress-free. We have a huge range of vehicles to offer and we are also able to offer you a free quote for your travel as well.
We always make sure that we offer our quotes on a no-obligation basis and that we also cater to your travelling needs as well. If you want to find out more about our services or if you would like to visit any of the locations that are listed above, please do feel free to get in touch with us. When you do, you can then count on us to give you the advice you need.
---